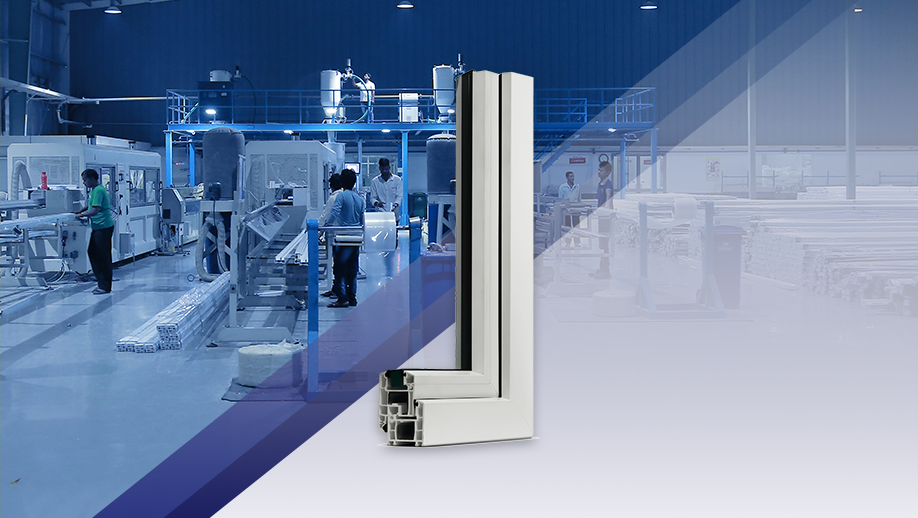 Over the past decade, uPVC has fast overtaken traditionally used wood and metal as the preferred choice for window & door profiles. This can be attributed to the wide range of benefits that these profiles come with, when compared to other materials.
Let's take a look at what goes on behind the scenes, and how these profiles are able to consistently deliver high performance and maximum durability.
What is uPVC?
Unplasticized polyvinyl chloride (uPVC), which is also known as rigid PVC is an extremely sustainable and versatile polymer based on polyvinyl chloride (PVC), which has evolved to become more efficient, durable and affordable. It is a more durable alternative to wood and aluminium in the construction industry, and is the material of choice for high-quality window & door profiles in residential and commercial projects.
The best profiles have versatility and are produced in captivating textures to match the needs of the consumers.
Why is uPVC the best choice?
uPVC window and door profiles are lead-free, easy to maintain and high on performance. High-quality ÖKOTECH uPVC profiles for windows and doors guarantee durability, cost-effectiveness, a high operating pressure point, excellent fire endurance, and long lasting life, thanks to their strong build.
Their high-grade flexibility makes it the ideal choice for windows and doors in commercial as well as residential projects. Unlike the traditional materials used in profiles, namely wood and aluminum, uPVC windows and doors retain their shape in even the most extreme weather conditions, and stays strong for a much longer period of time.
How is uPVC manufactured?
ÖKOTECH uPVC window and door profiles are made using the highest quality of raw materials and state-of-the-art machinery. Rigorous quality checks are built in through every step of the process to ensure top quality and enable high performance. Our profiles are made with a superior lead free uPVC compound and higher levels of Titanium. For extrusion, we use the world famous Krauss Maffei extrusion machinery from Germany. Large-scale automatic mixing equipment guarantees the scientific, accurate, and uniform mixing of ingredients and raw materials. The high-precision moulds used to create ÖKOTECH profiles ensure consistent dimensional accuracy and excellent surface finish. The whole process is diligently monitored by our quality control team and every ÖKOTECH profile undergoes 18 rigorous quality checks to ensure the highest standard of quality compliance – this helps us create beautiful, durable and versatile profiles that are built to perform and last long.
What are the advantages of uPVC?
Energy saving – Up to 3 times more effective at maintaining cool indoor temperatures.
Pollution-free – Our environment-friendly uPVC profiles for windows and doors meet the greenline norms of European companies.
Waterproof – Our profiles are fully resistant to even strong tropical rain and always remain leak proof. Also, saline water does not harm them.
Extremely durable – They never need to be painted, and will look as good as new for years to come.
Heat insulation – Our profiles help reduce energy costs in buildings, thanks to heat insulation that is at least 2.2 times better than Aluminium profiles.
Termite-proof – Completely safe from termites, our profiles don't face the issues that wooden profiles do, in humid conditions.
Noise reduction – They come with a unique double-seal system, which greatly reduces noise levels by up to 30-40 decibels.
Fire-resistant – Manufactured to DIN standards, our profiles are self-extinguishing – meaning they will not allow fire to spread, due to a fire retardant used in the mix.
Security – Our profiles allow for the incorporation of multi-point high-security locks. All locks and fittings are screwed into the core of the profile frame, giving them unmatched strength.
Wind resistance – They are the profiles of choice for high-rises and coastal areas that are prone to strong winds and heavy rains. Even years of being battered with strong winds does not weaken the profiles in any way.
Your search for beautiful, customizable, durable and high-performing window and door profiles ends with ÖKOTECH uPVC profiles.