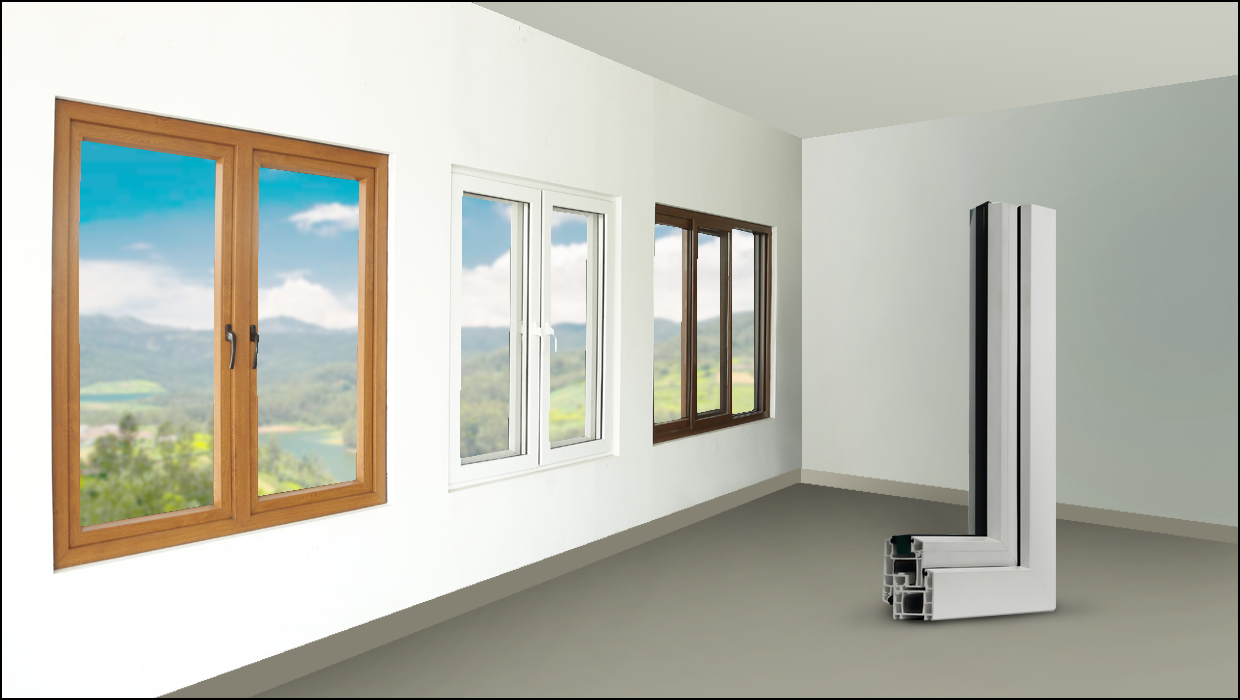 Okotech understands that it's important for your customers to have windows that complement their home or building architectural features and their personal sense of style.
Depending on their needs, Okotech uPVC window profiles come in a wide range of combinations, sizes and colours. They can choose clean-cut beading or a more decorative sculpted bevel finish, with internal or external steel bars if that suits your customer's style and preference.
All Okotech uPVC window profiles are built to perform, even in the most severe climates. All are designed, tested and engineered for optimal thermal performance, structural integrity and protection against the elements.
uPVC profiles for Casement Windows
The simplest of all window designs, and perhaps the most popular in terms of sales and installations, the casement window consists of a fixed, glazed frame and a second side hinged frame, or 'casement', with a simple opening mechanism to let fresh air into your home.
Quick and easy to fabricate and install, it's one of the best uPVC profile to bring A+ double glazing efficiency to your customers' home.
uPVC profiles for Sliding Sash Windows
Okotech uPVC vertical slider windows are the perfect way to stop leaks, rattles and reduce noise levels.
Perfect for Indian architecture and building structures, these uPVC window profiles are designed to have two moveable casements that can slide up and down independently. And unlike fixed sash windows, they can be unlatched from their rails and tilted inwards to make cleaning easier and safer.
uPVC profiles for Tilt & Turn Windows
The beauty of Tilt & Turn windows is the ingenious engineering that allows them to be opened fully like a side hinged casement window – ideal for cleaning the outer glass. These windows can also be tilted inwards on a bottom set of hinges for safe, secure night-time ventilation.
With no glazing bars or mullions to block the view, Okotech uPVC profiles for Tilt and Turn windows areideal for customers looking for an expansive view and for bringing in the maximum amount of light.
And because every one of Okotech Tilt and Turn window is made to order, we can match your windows to your exact specifications. Not just for size, but for any colour and finish you choose from the dozens of options.
uPVC profiles for Combination Windows
These windows are an integration of casement, fixed and sliding windows or two windows of the same type or two windows of different types. A major benefit of this style is the greater freedom it presents in terms of shape, style or size. Okotech combination windows bring unmatched design flexibility to your customers who can customize their spaces based on their individual requirements.
uPVC profiles for Arch Windows
When your customers wish to move away from the standard rectangular windows, you can delight them with Okotech's uniquely configured uPVC Arch windows that come with customized reinforcement. Be it narrow rounded arch windows or longer arched windows, Okotech uPVC profiles help enhance the visual appeal of a space and lend it a distinctive look.
With Okotech uPVC profiles for windows, you can be sure to delight your customers with window options that are best suited for their individual needs.