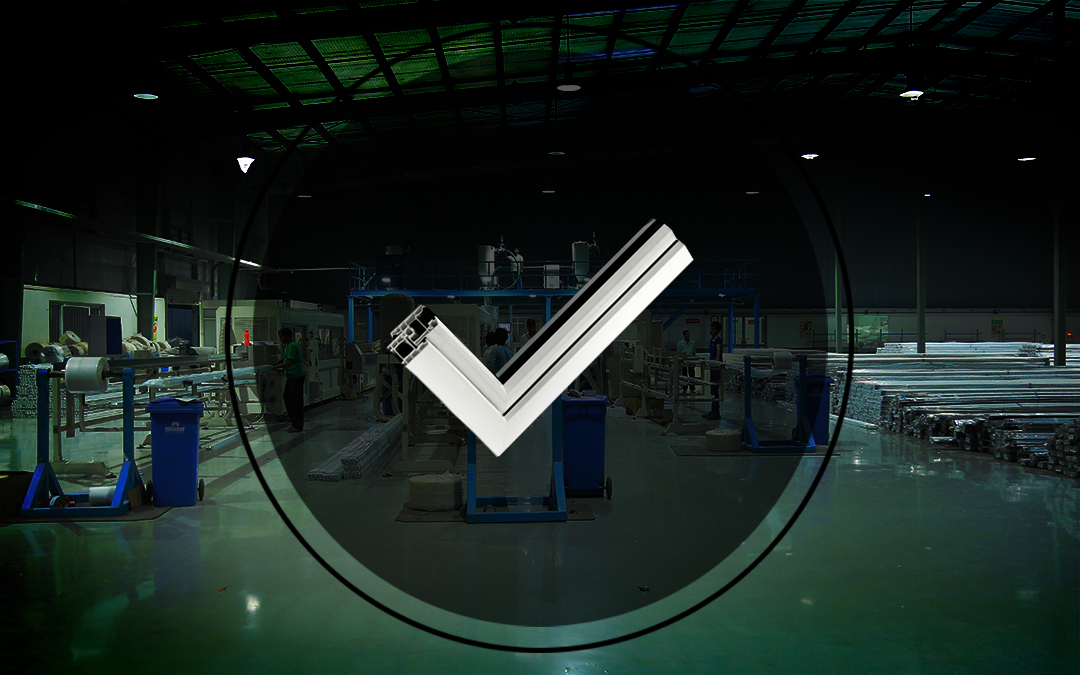 As customers become increasingly conscious about living a premium lifestyle, they are also willing to spend top dollar for quality products that are strong, durable, impeccably crafted and also great to look at!
In this context, with people constantly aspiring to a better quality of life, the only products that truly stand the test of time are those that are made from the highest quality raw materials, and with state-of-the-art processes and technology, to ensure that a great quality product is delivered every single time. Welcome uPVC windows and doors from Ökotech that fit the lifestyle of your customers.
World-class Quality
Ökotech uPVC profiles are manufactured with world-class, cutting-edge German extrusion equipment. All the equipment for the manufacturing of our uPVC profiles has been imported from Germany to introduce high reliability and accuracy into the manufacturing process. Ökotech employs the largest profile bending machine among uPVC brands in India, which can produce arches with a maximum radius of 3 meters. This combination of top-quality equipment and stringent quality control processes ensures that all orders are of uniformly premium quality and fit for the best residential or commercial projects.
Precision Engineering
Ökotech uPVC profiles are cut to the desired dimensions on high-precision PLC controlled cutting machines, based on a client's unique requirements. These high-quality profiles are then taken to the drilling and copy routing machine, where the necessary machining to fix the hardware and provide water drainage slots is done. The complete manufacturing process is monitored under the stringent stage-wise control of the parameters set by the Quality Assurance department. We also always maintains a well-stocked inventory of profiles to ensure the quick and timely delivery of uPVC windows and doors to even large-size projects at short notice.
Blending style & functionality
A better lifestyle is not just about aesthetics – for a product to be deemed premium, it should provide a host of functional features as well. Our profiles come loaded with many advantages, making them the benchmark for quality profiles.
Energy saving – Up to 3 times more effective at maintaining cool indoor temperatures.
Pollution-free – Our environment-friendly uPVC profiles for windows and doors meet the greenline norms of European companies.
Waterproof – Our uPVC window profiles are fully resistant to even strong tropical rain and always remain leak proof. Also, saline water does not harm them.
Extremely durable – They never need to be painted, and will look as good as new for years to come.
Heat insulation – Our profiles help reduce energy costs in buildings, thanks to heat insulation that is at least 2.2 times better than Aluminium profiles.
Termite-proof – Completely safe from termites, our profiles don't face the issues that wooden profiles do, in humid conditions.
Noise reduction – They come with a unique double-seal system, which greatly reduces noise levels by up to 40 decibels.
Fire-resistant –Our profiles are self-extinguishing – meaning they will not cause or allow fire to spread.
Security – Our profiles allow for the incorporation of multi-point high-security locks. All locks and fittings are screwed into the core of the profile frame, giving them unmatched strength.
Wind resistance – They are the profiles of choice for high-rises and coastal areas that are prone to strong winds and heavy rains. Even years of being battered with strong winds does not weaken the profiles in any way.
Thanks to these unmatched features, which are a result of using the best quality raw materials, stringent processes, and state-of-the-art machinery & technology, Ökotech uPVC profiles are the clear winners when you're looking to build premium projects that last long.