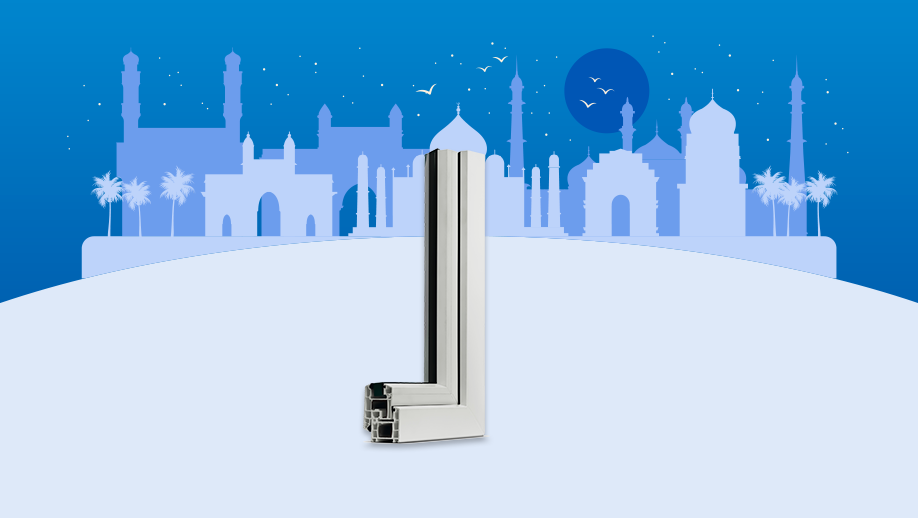 The climatic landscape of India is as diverse as its people and cultures. In this country that we call home, we have many coastal cities and towns with strong winds, humid weather and saline air. We also have extremely dry areas with lots of dust and dirt. Hilly, cold regions come with their own problems of frost and cold winds. Even cities and towns in the plains face a range of climatic conditions throughout the year, with extreme summers, monsoons or winters.
This is why the building materials that are best suited for Indian conditions need to be extremely durable, versatile and strong, while still maintaining their beauty. The life of these materials also needs to be long in a market like India, where we build homes and businesses with the next few generations in mind.
This is what makes Ökotech uPVC profiles the most preferred choice for all residential and commercial needs across India. Now, you can give your customers a product that is built to perform, no matter where they live. Ökotech uPVC profiles are manufactured with the highest quality raw materials and world-class, cutting-edge German extrusion equipment. Our uPVC profiles come with hurricane bars for added strength to withstand high winds and extreme weather conditions. We also employ the largest profile bending machine in India, which can produce arches with a maximum radius of 3 meters. The whole manufacturing process is monitored under the stringent stage-wise control of the parameters set by the Quality Assurance Department.
Here are some of the features of Ökotech uPVC profiles that make them suited for India's diverse conditions:
Waterproof – Our uPVC profiles are waterproof and fully resistant to even strong tropical rain and they always remain leak proof. Also, saline water does not affect them. So if you're looking for uPVC profiles in Chennai or other coastal cities that face heavy rains and get a lot of sea breeze, Ökotech is the way to go.
Heat insulation – Our uPVC profiles for windows and doors help reduce energy costs in buildings, thanks to heat insulation that is at least 2.2 times better than Aluminium profiles. People looking for uPVC profiles in Hyderabad or other cities that experience very hot and dry summers need not look beyond Ökotech.
Noise reduction – Our uPVC profiles for windows and doors come with a unique double-seal system, which greatly reduces noise levels by up to 40 decibels. This is a great feature for your clients living in any Indian city, especially with the ever increasing snarls in traffic and sound pollution.
Wind resistance – Our profiles are the profiles of choice for high-rises and coastal areas that are prone to strong winds and heavy rains. Even years of being battered with strong winds does not weaken these durable profiles. If you're looking for sturdy uPVC window profiles that can tolerate heavy winds, look no further.
Security – Security is a concern we all share, irrespective of where in the country we live. Our profiles allow for the incorporation of multi-point high-security locks, and all locks and fittings are screwed into the core of the profile frame, giving them unmatched strength and sturdiness.
Energy saving – Our profiles are up to 3 times more effective at maintaining cool indoor temperatures, thereby reducing energy costs – which is good for the environment and great for the users!
Extremely durable – Our profiles never need to be painted or polished, and will look as good as new for years to come.
What's more, Ökotech uPVC profiles can be customized as per individual client requirements, to fit all shapes and dimensions. With this impressive range of functional features, our uPVC profiles are the clear choice for any residential or commercial project, anywhere in India – whatever the conditions may be!