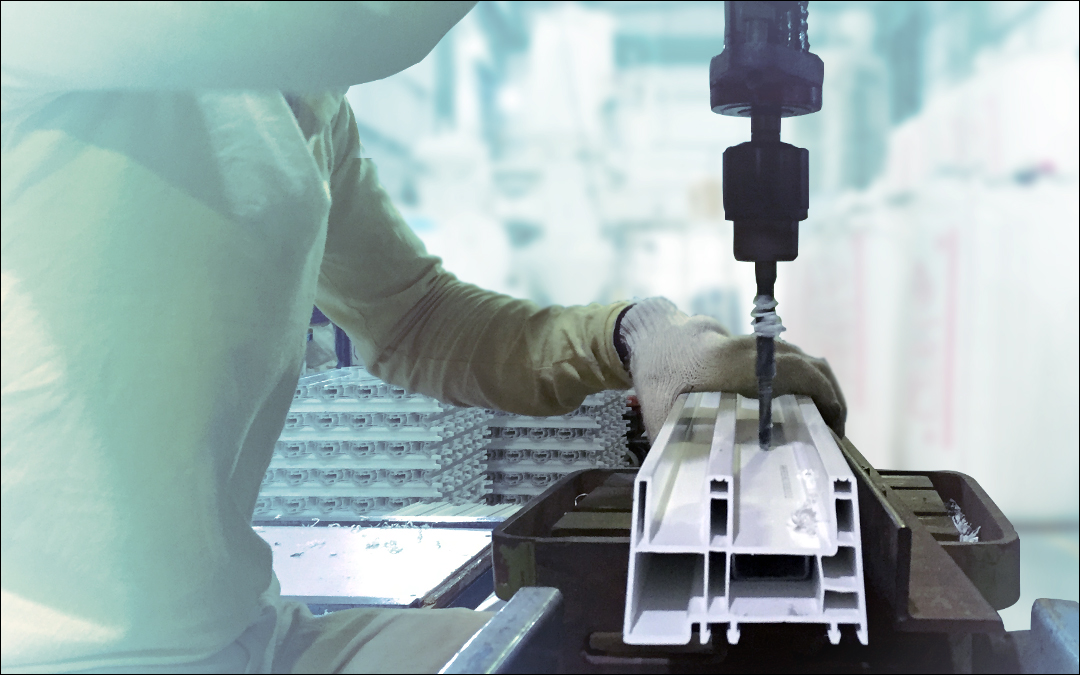 While recommending a uPVC window profile to your clients, it is in the best interest of both parties to choose profiles that are of high quality, extremely durable, and worth every penny that the client ends up paying for it. The profiles should also complement their residential or commercial space and the architectural features of their building, while being in sync with their personal style.
Every space is as unique as the people who reside in it, and it is important to choose a uPVC profile based on their needs and personal design aesthetics.
Casement window profiles:
A casement window consists of a fixed, glazed frame and a second side hinged frame, or 'casement', with a simple opening mechanism to let fresh air into any space. Quick and easy to fabricate and install, it's one of the best uPVC profiles to bring A+ double glazing efficiency to your customers' home.
uPVC Sliding window profiles:
Ideal for Indian architecture and building structures, these uPVC window profiles are designed to have two movable casements that can slide up and down or right and left independently. They are high on performance and easy to maintain and offer benefits like noise-insulation, heat insulation, wind resistance, etc.
uPVC Arch window profiles:
Steer your customers away from standard rectangular windows and delight them with unique uPVC Arch windows. Be it narrow rounded arch windows or longer arched windows, these uPVC profiles help enhance the visual appeal of a space and lend it an elegant, distinctive look.
uPVC Tilt and Turn window profiles:
The ingenious engineering of uPVC Tilt & Turn windows allows them to be opened fully like a side hinged casement window – ideal for cleaning the outer glass. These windows can also be tilted inwards on a bottom set of hinges for safe, secure night-time ventilation. With no glazing bars or mullions to block the view, uPVC profiles for Tilt and Turn windows are ideal for customers looking for an expansive view and for letting in the maximum amount of light.
Combination window profiles:
These windows are an integration of casement, fixed and sliding windows or two windows of the same type or two windows of different types. A major benefit of this style is the freedom it gives in terms of shape, style or size. Combination windows bring unmatched design flexibility to your customers who can customize their spaces based on their style and requirements.
uPVC Villa window profiles:
uPVC villa windows are fitted with an iron grill for added safety, a double sash and an option to easily add a bug mesh or screen. Villa window profiles help in noise reduction and provide excellent insulation against heat, to help you better maintain the serenity and comfort that a villa lifestyle deserves.
Ökotech offers a wide range of uPVC window profiles that are highly customizable and offer durability, cost-effectiveness, excellent fire endurance, a high operating pressure point, and long lasting life – all thanks to their strong build.
Ökotech uPVC profiles are manufactured with the highest quality raw materials and state-of-the-art machinery & technology. Strict quality checks are a part of every step of the process to ensure top quality and high performance. All profiles are made with a superior lead-free uPVC compound and higher levels of Titanium. World-class machinery from Germany is used for extrusion, and our large-scale automatic mixing equipment ensures the scientific, accurate, and uniform mixing of raw materials. High-precision moulds used to create all Ökotech profiles promise consistent dimensional accuracy and excellent surface finish. The whole process is meticulously monitored by the quality control team and every window profile undergoes rigorous quality checks to ensure adherence to the highest standard of quality compliance.
All these structured and well-planned processes help us create beautiful, durable and versatile profiles that last long and perform beyond your expectations.