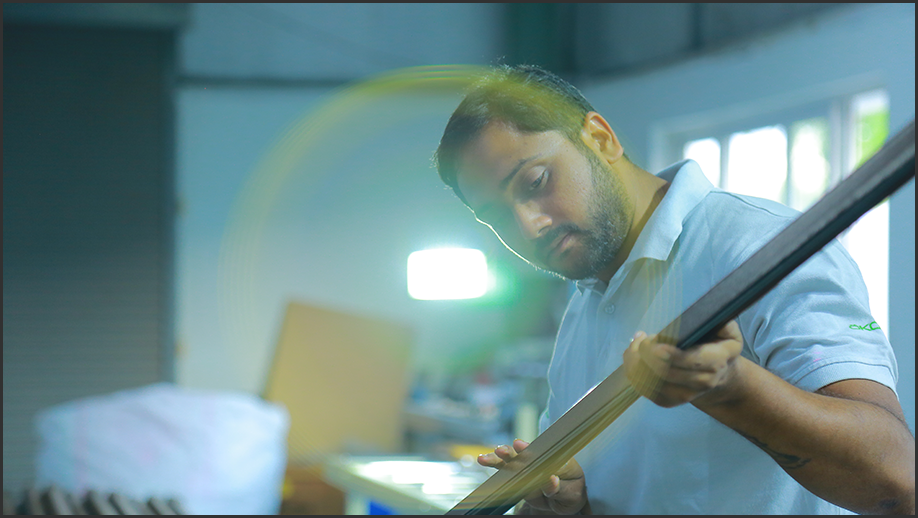 Understanding what makes a customer happy is as important as understanding how to deliver the best quality uPVC windows and doors.
As you are aware, all customers want not just great products but also look for great service. Hence, the right uPVC fabricator who understands this need and fully meets it will begin a great relationship. One that builds reputations, expands clientele and spreads his name far and wide.
Grow Your Business
Here are a few pointers on how to become the 'go to' uPVC fabricator for your customers.
One of the first thing that any customer looks for in uPVC profiles is the quality of the product. With Okotech, you can rest assure that you will be providing your clients high precision profiles that are rated as among the best on the market.
Okotech profiles are made using higher levels of Titanium Dioxide and lower levels of Calcium Carbonate to ensure that the profiles are stable, retain their smooth finish and do not discolour for years to come.
German engineering on German machinery ensures every Okotech profile meets strict European standards.
The multi-chambered sections of the profile come with thicker walls adding to its performance, as well as increasing the strength of Okotech uPVC window and door profiles.
Okotech's obsession with quality doesn't end there, the multi-point quality checks at every stage of production ensure that the profiles you invest in are robust, durable and deliver trouble-free performance throughout their life cycle.
And by following Okotech's famed fabrication process, you create an end product that will be second to none. Every Okotech uPVC window and door you fabricate will score above other fabricators' products on every count.
Each product will turn out to be noise-resistant, leak-proof, wind resistant and offer excellent thermal efficiency while being environmental friendly and extremely easy to maintain.
Customize To Your Customers' Style

Okotech offers a range of customization options which are not limited to just the designs and dimensions of the uPVC profiles but extends to the lamination/colour, glass, glazing, mesh, grill and original hardware that enhances the performance. Offering customization based on the specific needs of your customers will definitely help you score brownie points here.
Another key factor that plays a critical role is the range of profiles you as Okotech fabricator can offer. Okotech has a wide range of designs including profiles for uPVC casement windows, uPVC casement doors, uPVC sliding windows, uPVC sliding doors, uPVC villa windows, uPVC tilt and turn windows, uPVC arch windows and uPVC slide and fold doors. Okotech's capability to offer such a wide variety is aimed to ensure customers find everything they want from one fabricator and under one roof.
Serve To Excel
In our fast paced lives, everyone appreciates punctuality and timely service. So when everything works with clockwork precision and the end product is installed on time and to the full satisfaction of the customer, rest assured you will retain that customer for life. More important, his or her word will help you grow your business like nothing else can.
Okotech understands that punctuality, the quality of product and the efficiency of your service to customers will make a big difference to your business. Which is why, our logistics ensure that you never run short of anything you require to fabricate a worldclass uPVC product. You will never have to complain.
Everything you need, right from the number of profiles you order, the hardware you need, will be delivered to your doorstep on time. Every time. This way Okotech ensures that you carry low inventories and can focus on your work without having to worry about delays.
Last but not the least, your customers prefer a 360° service that is hassle free and includes recce, design, fabrication, installation and post sales service.
A fabricator who can make the experience of installing uPVC windows and doors easy and seamless will earn the respect of clients, and what they tell the world about you will be worth its weight in gold.