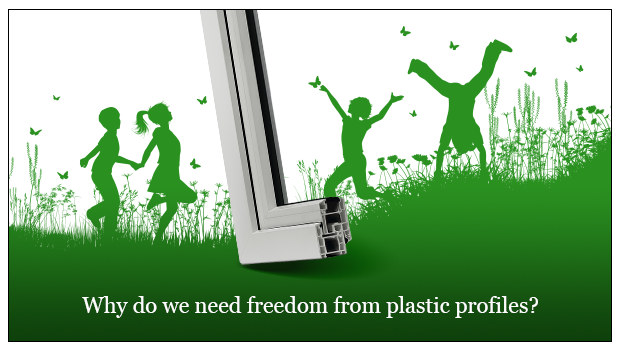 The month of August brings the air of freedom with it. Freedom always comes with the responsibility for choosing the best for yourself without harming those around you. Having similar notions, Okotech pledges to walk the revolutionary path to gain freedom from plastic profiles. Let's take pride in using eco-friendly uPVC profiles and gain freedom from plastic profiles.
Here are four reasons why you need freedom from plastic profiles and choose uPVC profiles instead:
• Freedom from noise:
All uPVC window profiles are designed with a special manufacturing composition, which ensures that the product will reduce the noise by at least 30-40 dB. In case of plastic profiles, there is no guarantee that your living space or commercial space will be free from noise.
• Freedom from lead:
uPVC profiles are lead-free and are 100% recyclable. The heavy amount of lead content and non-recyclability of the plastic profiles creates a negative impact on the environment making the eco-friendly uPVC profiles a better choice.
• Freedom from fire:
Unlike plastic profiles, uPVC profiles don't possess a hazard to any living or commercial space. The fire retardant used in the mix doesn't allow the fire to spread making uPVC fire resistant and self-extinguishing in nature. Okotech complies with the DIN standards while manufacturing its uPVC profiles.
• Freedom from termite:
Plastic profiles though are light and durable are susceptible to being destroyed by termites. However, in the case of uPVC profiles termites can never attack. They are termite resistant due to the compounds used in the manufacturing process and the high wall thickness that Okotech profiles generally are infused with.
With all of these arguments in place, it is safe to assume that uPVC profiles are here for the long run and freedom from plastic profiles is what we should strive for. For additional information on our uPVC profiles explore https://okotech.in/.