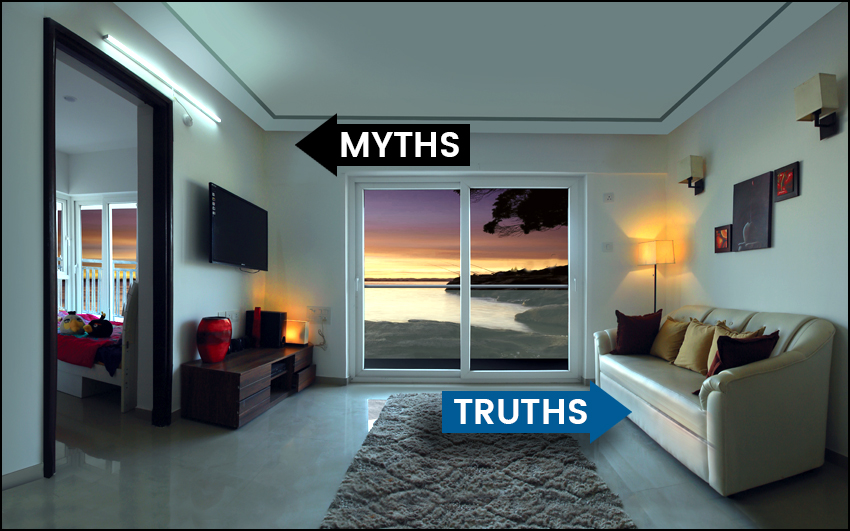 Unplasticized polyvinyl chloride (uPVC) is a fast-growing, better alternative to traditional building materials, due to its wide range of advantages over them. Whether it is for a residential project or a commercial one, recommend your clients to invest in high-quality uPVC window and door profiles that are extremely durable and long lasting, making them the smartest choice for all building projects.
Read on to break some common myths and misconceptions people have about this material.
Myth
"uPVC profiles cannot bear humidity"
Truth
uPVC windows & doors are built in a way that makes them completely resistant to humidity. Superior quality uPVC profiles will not warp, rot or break down in even extremely hot or humid climates, which makes them a great choice for all weather conditions across the geography of India. They need minimal maintenance and don't require frequent polishing or painting.
Myth
"uPVC windows and doors are not resistant to high speed winds"
Truth
uPVC profiles are reinforced with strong galvanized steel inner frames that provide them with high strength and resilience. Thus helping them resist any damage caused due to high-speed winds, thunderstorms or even saline water. This makes uPVC windows and doors ideal for people living in coastal areas and high rises.
 Myth
"uPVC windows do not help prevent noise pollution"
Truth
uPVC window and door profiles are not just waterproof  but also soundproof. They can very efficiently reduce outside noise by up to 30-40 dB. Their multi-chambered design, added with double or triple glazing creates a double seal system that curbs the entry of loud disturbing noises from the outside environment. Their unique built also enables them to trap heat and offer greatly enhanced ventilation, which saves up energy costs by up to 30%.
Myth
"uPVC windows and doors come only in white"
Truth
uPVC window and door profiles are highly customizable. They come in a range of colours including black, white, blue and grey. A lot of good brands also offer a range of wood finish laminates.
Myth
"uPVC doors & windows provide no protection from fire accidents"
Truth
uPVC is a self-extinguishing building material that doesn't allow fire to spread, thanks to the presence of a fire retardant used in the mix. Ökotech manufactures some of the best uPVC profiles in Hyderabad that offer high protection against fire and also match DIN standards.
Myth
"The materials used for our windows & doors don't matter much"
 Truth
The building materials that are used in a home or office's windows and doors play a very important role in several aspects of their functioning and performance. For instance, opting for traditional materials like wood, PVC, steel, and iron can only lead to having various maintenance and performance issues within a short duration after their installation and use.
Wood can easily be prey to insect manifestation and iron would require frequent painting and expensive maintenance. Whereas uPVC windows and doors eliminate most of these disadvantages and prove to be of the highest durability and performance.
This has led it to be one of the most preferable building material choices among architects, engineers, and homeowners.
uPVC and its benefits over traditional materials
Extremely high on durability
Easy maintenance makes it more cost-effective
uPVC window and door profiles are waterproof
Resistant to stains and scratches, making them easy to clean
Highly soundproof – can cut outside noise by up to 40 dBs
Multi-chambered design provides better thermal insulation
Multi-locking offers better security
Wide range of customization options available
Termite-proof and resistant to corrosion
Made with self-extinguishing material
Ökotech is one of the most trusted and leading uPVC profile manufacturers in Hyderabad. With highly advanced engineering and German precision, our products are made from 100% lead-free materials and are completely recyclable and eco-friendly.
Ökotech also extends its expertise through comprehensive training, technical advice, and marketing support to its partner fabricators. Reach out to us and know more about how to partner with us and experience the Ökotech advantage.