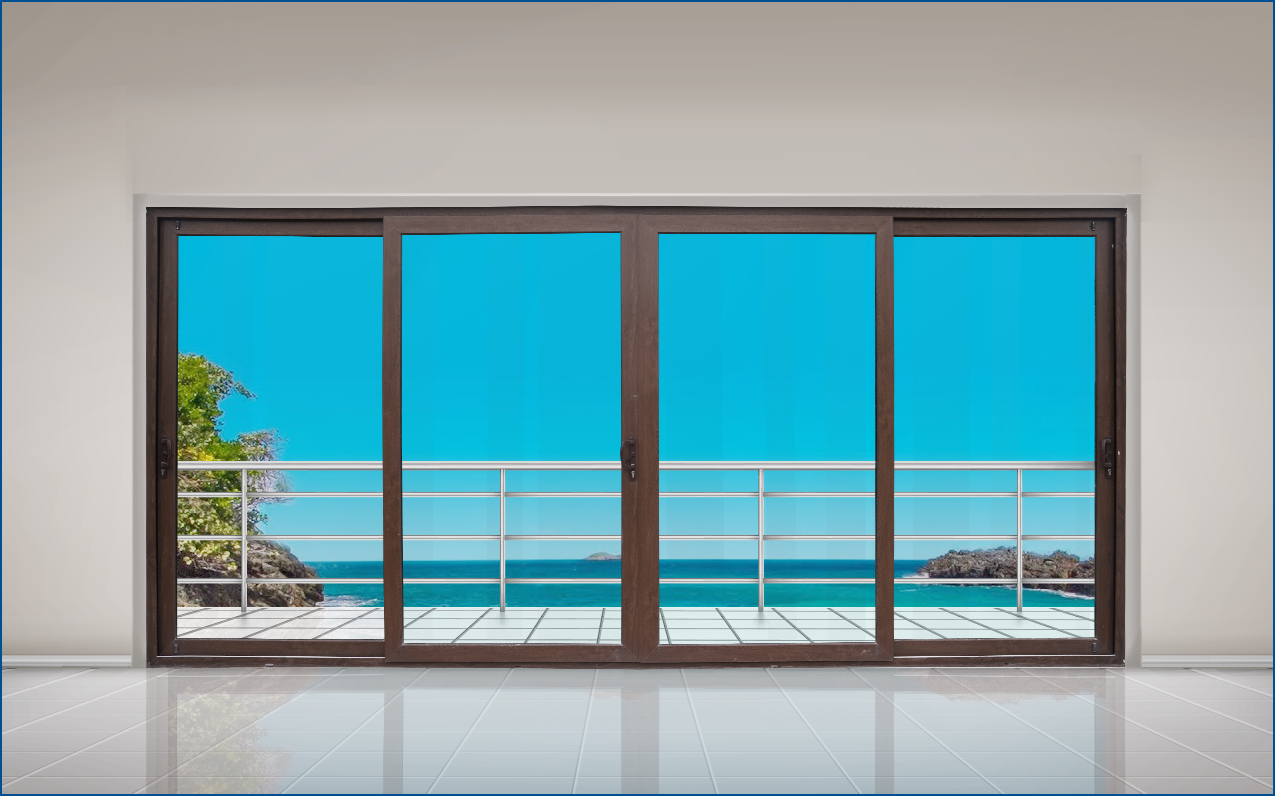 An abundance of sunlight and ventilation, combined with excellent security and insulation, is every homeowners dream. High-quality uPVC sliding windows and doors bring these features to the table, along with seamless style and exceptional energy efficiency. Your customers are sure to be impressed with the style, range and functionality of these sliding uPVC profiles.
uPVC Sliding windows and doors allow for clean, unobstructed views and come with a rich, yet understated finish, making them ideal for homeowners who are seeking a contemporary aesthetic for their homes. These sliding uPVC windows and doors are sleek in design, but highly durable and robust in function. They are designed to withstand the range of harsh climatic conditions that prevail across the length and breadth of India. They remain looking great even after years of use, and easily adapt to extreme heat or cold, heavy rain, high winds and even corrosive and saline sea water.
uPVC sliding windows lend a sleek, contemporary look to any space, thanks to their neat lines and defined contours. They are particularly useful in homes or projects where there is a need to maximize the use of space. These windows provide unobstructed views of the outdoors, together with abundant ventilation, because they are less frame and more glass. They make spaces look and feel bigger, brighter, and happier!
uPVC sliding windows move on multi-tracks and come with multiple locking systems, and with the provision to add galvanized steel reinforcements inside their profiles, making them highly safe & secure.
uPVC sliding doors are a wonderful way to blur the boundary between indoors and outdoors, and enjoy uninterrupted views, thanks to the large panes of glass. These doors slide sideways on smooth tracks in the door frame and are therefore a perfect space saving feature for the home, while also being easy to operate. Homeowners will also be able to access more natural light and fresh air, vastly improving their quality of life.
All high-quality uPVC windows and doors come with a range of benefits, let's take a look at what they are.
Benefits of uPVC windows and doors:
Save up to 30% on electricity bills
Reduce noise by 40 decibels
Leak-proof
Withstands high-velocity winds
Prevents spread of fire
Highly safe & secure
No discolouration
Does not corrode, warp, or rust
Easy to maintain
Eco-friendly
Lasts for years
Ökotech was the first to introduce 7 feet to 10 feet doors in India. With the use of high-quality raw materials, and features like a unique multi-chambered design, high wall thickness, and increased width of the profile, they are very sturdy and robust. Customers also have the option to add reinforcements. These factors are customized based on the height of the door, and the customers personal requirements.
Give your clients the option to choose from a range of elegant natural wood finishes, like Golden Oak, Walnut, Rustic Oak, Dark Oak or Mahogany. We assure –
Outstanding color fastness & gloss stability
No delamination & bubbling
Chemical resistance & easy clean
All Ökotech uPVC sliding windows and doors can be customized as per the customers requirements and preferences. Customization options include:
Colour & lamination
Mesh & grills
Hardware
Glass & glazing
There are also several styles to choose from based on the size of the space and the preferences of the customer. Get in touch with us for more information on our range of high-quality profiles for uPVC sliding doors and windows.