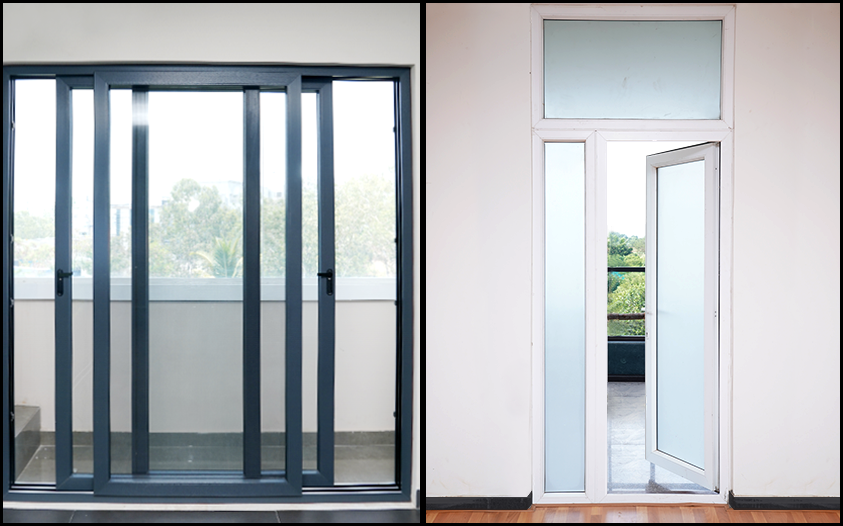 The top priority for any door you may want to consider is to make sure it offers maximum security, energy efficiency and durability without compromising on style. Once these are met, it is time to take a close look at the choice of uPVC door, specifically the sliding and the casement options. Because these uPVC doors not only overcome all your concerns, but bring more benefits doors made from timber and steel can do.
India is a land blessed with a culture of art and aesthetics. Even the traditional door styles from our villages are awe inspiring and offer formidable protection. These are thick, solid and have deeply carved patterns etched onto the wood surface. They look stunning and reflect opulence, making them excellent door choice for traditional homes.
But for modern homes, you need to look at another excellent choice. Today, uPVC sliding doors and uPVC casement doors, both have come a long way since their beginnings and offer maximum security and energy efficiency, as well as style. They also offer something else doors from earlier era don't — bring light into your home. This is not only practical, but saves you quite a lot of money through lowering the power bill.
Difference between uPVC Sliding Doors & uPVC Casement Doors
uPVC doors are available in a wide range of styles and sizes and can even be tailored to your own specification. To get a general idea for choosing the right style, understand the basic difference between the two door types.
What are uPVC Sliding Doors? 
uPVC sliding doors are made of two or more than two frames that can slide horizontally from left to right instead of opening in the front or the back. This creates an illusion of extra space in an enclosed area.
Original uPVC sliding doors are extremely good looking and are ideal for period properties, which is their strong selling point. Wooden doors are extremely expensive to maintain and repair, they can offer only single glass panes, which makes them very energy inefficient.
It is recommended that that you replace all those old wooden doors with the new state-of-the-art uPVC sliding doors.
Advantages of uPVC Sliding Doors
The uPVC sliding doors and windows have a smooth movement, thanks to the nylon rollers at their bottom.
They have a particular rain track that allows a free-flowing drain system.
The touch lock feature of the doors and windows makes for secure locking and unlocking.
Sliding doors can wide open making a place look spacious, thus allowing more fresh air and sunlight.
The doors are multi-chambered that makes them extra durable and allows better thermal conductivity.
There is an extra track that can be used for adding a mesh or a grill if required.
Like all the other uPVC solutions, these are weather and soundproof as well.
They feature a hurricane bar option that makes them strong enough to withstand heavy winds or storms.
Apart from having many features and benefits, these are also available in a number of colours, designs, and styles.
uPVC sliding doors do not need regular painting like those old wooden ones do. uPVC sliding doors and windows are easy to maintain and look new for years to come. They don't bend, warp or corrode and are termite-proof.
What are uPVC Casement Doors?
uPVC casement doors are typically attached by at least two hinges at the side. These doors can open inwards or outwards, but most people opt for an outward opening. To ensure the door stays open even during windy weather conditions, they come with a 'friction hinge' to keep the door open and prevent it from banging shut.
uPVC casement doors are available in sturdy frames, ensuring a modern appearance which best suits contemporary homes. They also are available in a wide range of colours and finishes, making these doors extremely versatile.
Advantages of uPVC Casement Doors
The casement doors can also open inwards which can be extremely beneficial for areas with restricted access such as a public pathway to the side of the building.
They are available in a wide range of looks and combinations of glass.
They are extremely secure due to the embedded locking mechanism within the door frame. And are very energy efficient which will save you money by insulating your home and reducing energy bills.
These doors have the widest opening of all the door types allowing maximum ventilation. Due to the wide door plane, light is maximised into the room.
The correct door can make a big difference to your property. It's the first impression your visitors receive – so make sure it's a good one!
When making the final choice in uPVC solutions, remember to look for Ökotech.
Just get in touch with an Ökotech fabricator in your area. They can provide you all the additional information you need to make an informed decision. Because, choosing the right brand of uPVC sliding doors or uPVC casement doors for your home will assure you excellent insulation, protection against dust, pollution, noise, and rain besides accentuating the beauty of your space.