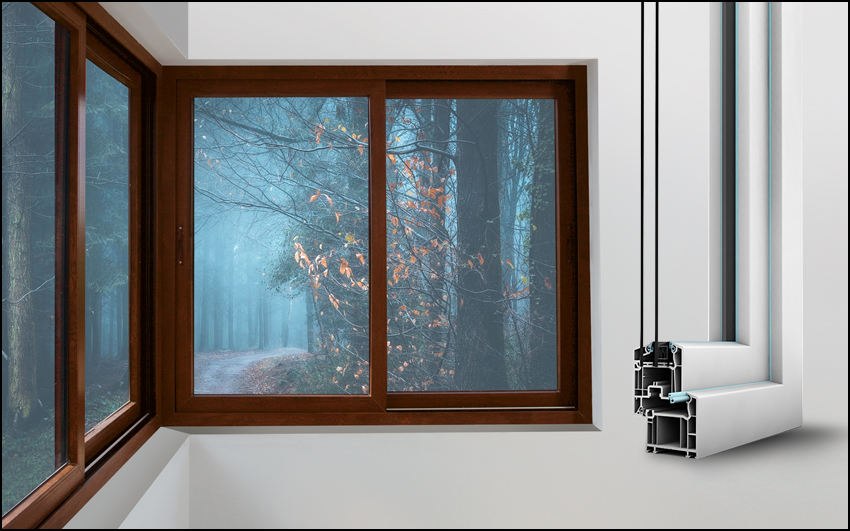 uPVC window profiles are gaining more popularity now than ever before, thanks to their endless list of benefits over traditional materials like wood. With the increasing demand, there is a huge variety of different types of uPVC profiles in the market. Today, you can not only select from a diverse range of window and door profiles but also custom-design everything from the type to the laminates and finish.
Consumers look for easy-maintenance and high durability in their windows and doors. As a fabricator, delivering products that promise these features is extremely essential. Multi-chambered profiles and a high wall thickness are two factors that can greatly determine the strength, performance and durability of any uPVC window or door profile. They have better energy efficiency and can combat noise pollution effectively. Their strong build makes them the most suitable type for every space, no matter where it is located.
Say no to compromising on the function and long-lasting performance of your client's uPVC windows and doors and opt for manufacturers that build profiles with a high wall thickness and multiple chambers. Here's how these two things can make any uPVC window or door profile functionally superior.
Resistance to extreme weather conditions
Multi chambered uPVC window profiles can withstand harsh climatic conditions, like high-speed winds, rains and thunderstorms. This makes them ideal for all weather conditions across the geography of our country. Further, they are also resistant to termites and do not corrode, fade, warp, and bend, working and looking, as good as new for years.
The multiple chambers present in these uPVC door and window profiles makes them stronger and more sturdy. Additionally, the high wall thickness makes them resilient and very difficult to break through.
 Superior thermal efficiency
The more the number of chambers and the higher the wall thickness in any type of uPVC profile, the better the thermal efficiency. Thus, these profiles help keep the indoors warm during winter and cool during summer, thereby reducing high electricity bills. You can also suggest your customers to go for double-glazing or triple glazing to enhance their energy efficiency.
Enhanced safety and security
The presence of multiple chambers can make your windows and doors stronger than you think. They enhance the security of your space greatly, as they are extremely difficult to break. Further, a multi-point locking system can add to the safety of your homes.
uPVC door and window profiles are widely known for their ability to reduce outside noise. When you opt for multi-chambered profiles, it further reduces the levels of outdoor sounds and prevents them from entering indoors. This makes them a great choice for metropolitan cities.
Having a high wall thickness makes the entire fabrication process more flexible and hassle-free. This can help to accommodate high and wide windows and doors, going as high as 10 feet. Many local profiles often have a very low thickness which prevents them from fabricating very tall doors and windows.
Multi-chambered uPVC profiles by Ökotech
Our uPVC window and door profiles are built with superior lead-free raw materials and multiple chambers to provide extra strength and resilience. They have been designed specially to resist high-speed winds and thunderstorms and torrential rains, making Ökotech one of the leading uPVC profile manufacturers in India.
Ökotech is also one of the very few uPVC profile manufacturers that provide the best uPVC profiles in India for a varied range of wall thickness. The high wall thickness, along with our strict internal quality control procedures and a variety of customizable options help us deliver some of the best uPVC profiles in India. At Ökotech, we help uPVC window and door fabricators from across the country to grow their businesses and develop trust with their buyers by providing them with only superior quality uPVC window and door profiles.