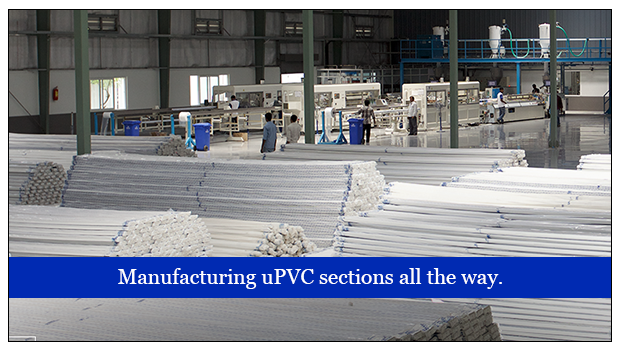 uPVC polymers are versatile substances which have taken the windows and doors industry by storm. In a short span, they have become the preferred choice of the common masses.
uPVC sections are unplasticized polyvinyl chloride. They are resistant and are used to fabricate window and door frames.
uPVC sections are chosen due to their excellent performance and durability. Usually, uPVC profiles and uPVC sections are regarded synonymous. But, uPVC sections and uPVC profiles are absolutely the same substance. uPVC sections are just a different name used to address uPVC profiles.
Overview of the uPVC fabrication process:

-An uPVC window or door is made from sections of a profile. They are cut and joined together in perfect sizes to form a frame which can be fabricated flawlessly.
-uPVC sections are produced by forcing a molten resin mix through a precision die, the material is cooled almost immediately before being cut to length.
-The flatness, squareness, and straightness of the uPVC section are maintained by the design characteristics of the uPVC section and the tooling.
-The uPVC windows and doors are then fabricated from pieces of profile that have been cut to the correct size. These pieces of profiles are joined together using either heat-fusion welding or T-joint connectors.
–Galvanised steel reinforcement sections are fixed inside the UPVC profiles to provide additional strength, where required.
uPVC sections are as mentioned above are basically uPVC profiles. It is due to the manufacturing finesse of these uPVC sections that it has gained credibility over the last few years. All of these uPVC sections are designed to have the following features:
–Multi-chambered:
Designed to provide strength and to withstand high-speed winds and thunderstorms and torrential rains, Okotech's uPVC sections are multi-chambered. Multiple chambers mean more toughness and durability.
–Wall thickness:
For better fabrication, Okotech produces uPVC sections with a varied wall thickness ranging up to 2.8 mm. This high resolution of wall thickness makes it more flexible to fabricate high windows and doors.
–RoHS certified:
Okotech's uPVC sections are designed with a stringent adherence to the European market standards and are RoHS certification. They are manufactured with 100% lead-free substances and hence qualify for RoHS certification.
With these classic features, we understand Okotech's uPVC sections are highly durable, weather resistant and are lead-free. For more information on Okotech's uPVC sections, explore https://okotech.in/ .