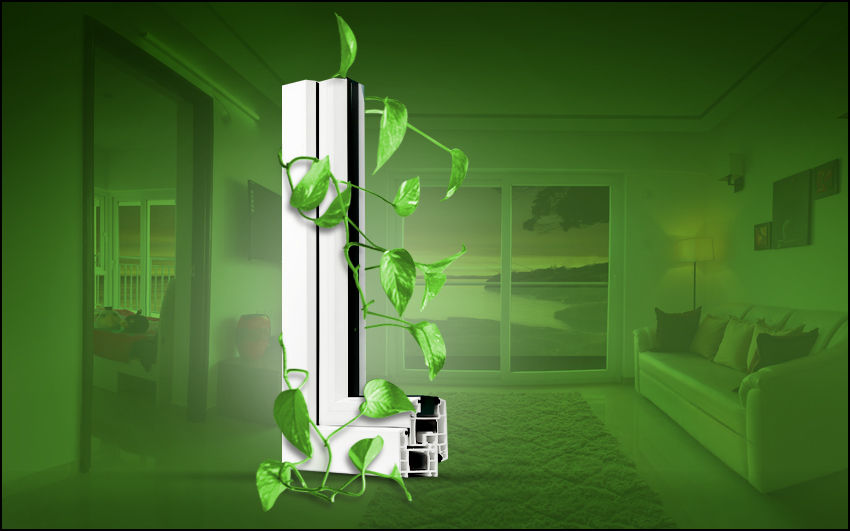 Unplasticized polyvinyl chloride (uPVC), has been upgraded over the years to become highly-efficient, extremely durable and affordable. It is one of the most versatile and eco-friendly materials used by the construction industry. Since it is an unplasticized material, uPVC is very robust and has highly-effective insulation functions.
Unlike wood and other traditional materials, uPVC retains its shape even in extreme weather conditions and stays unscathed in case of any physical impact. uPVC is built for high performance, making it a perfect choice for windows and doors used for commercial and residential purposes.
uPVC- an eco-friendly choice
Environment-friendly buildings are the calling for the future as they will give rise to sustainable lifestyles. Every year, millions of trees are cut down and used to make doors, windows, and furniture, which creates an obvious negative impact on the environment. This can be reduced considerably by the use of alternative materials, and uPVC fits the bill perfectly.
Lead-free and environment-friendly: uPVC profiles from brands such as Ökotech are lead-free and environment friendly, and are the material of choice for building green. A lead-free stabilizer is added into the formulation to manufacture high-quality windows and doors that are not just high performance but also an environment-friendly choice.
Recyclable: uPVC doors and windows are easily recyclable and can be re-created into other products towards the end of their lifespan.
Excellent insulation: uPVC doors and windows are a greatly enhanced energy-efficient solution and they do not let hot or cold air escape a room easily. uPVC reduces the stress on your heating and cooling devices, thereby cutting down on energy bills and lowering the carbon-footprint. These windows and doors offer exceptional thermal comfort by maintaining an optimal temperature of the interiors, throughout the year.
Low maintenance: Another aspect of uPVC door and window profiles, which adds to the overall eco-friendliness of the material, is that they require very low-maintenance. This means there is no necessity of painting or polishing which usually require harmful chemicals and produce extra waste. Even in the harshest of weather conditions, uPVC profiles will last for years, and the less often you have to replace a product, the more eco-friendly it is.
Other benefits of uPVC: uPVC windows and doors are not just an eco-friendly and energy-efficient solution for your space, they also come with a host of other benefits. High performance uPVC doors and windows reduce outside noise, are watertight, termite and fire-proof, can withstand high velocity winds, are highly durable, and are extremely easy to maintain.
Ökotech lead-free uPVC profiles
Ökotech brings you a range of eco-friendly door and window profiles to choose from. All Ökotech uPVC profiles are lead-free, energy-efficient, are made using environmentally-friendly manufacturing processes, and meet stringent international environmental standards.